Students celebrate superb GCSE Results
August 24, 2023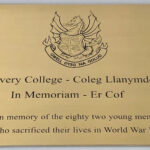 Memorial to the Fallen in Ypres
November 20, 2023
Exciting Partnership with London Welsh
Llandovery College is thrilled to announce an exciting partnership with London Welsh Rugby Football Club, further strengthening the existing relationship between the two. This partnership aims to support the College and raise awareness of educational and career opportunities for aspiring young rugby players.
One of the primary objectives is to highlight the playing opportunities available to boys and girls at Llandovery College who wish to pursue their academic studies or professional careers in London. London Welsh will present the benefits of their successful Careers Hub to the students, showcasing the diverse pathways available within the club and the broader London community. And, as part of the partnership, to demonstrate London Welsh's commitment to nurturing young talent, the club will sponsor the reverse of Llandovery College's rugby shirts.
The collaboration culminates in an exciting event, where Llandovery College's Rugby team will play an historic match against a touring Argentinian team at Old Deer Park in February 2024. The first time the team will have played at the London Welsh ground, marking a significant moment in the College's rugby history.
This partnership builds upon a longstanding relationship between London Welsh and Llandovery College, with the Old Llandoverians (Old Boys and Girls) hosting an annual dinner at London Welsh during the Rosslyn Park 7's for over a decade.
Both London Welsh RFC and Llandovery College are excited about the opportunities this collaboration will create for aspiring rugby players and students. The future looks bright as these two esteemed institutions work together to support and inspire the next generation of athletes and scholars.
Speaking from Old Deer Park, London Welsh Director of Community Rugby, Gareth Vaughan Jones said:
"We are really pleased that Llandovery College will have London Welsh's logo on the back of their shirts for the Welsh Colleges League season, as we want to demonstrate how relevant we can be for those boys and girls who play rugby in Wales and that we can be a home from home for them in London, whether they want to further their academic prospects or career aspirations. Haydn from our Careers Hub will be visiting the school in due course to speak with the playing squad and we look forward to hosting Llandovery boys for a fixture vs Club Champgnat, a touring Argentinian team, who are visiting Old Deer Park on February 15th. It should be a great occasion for all."
Dominic Findlay, Warden of Llandovery College commented:
"We are delighted to have created even greater links with London Welsh, the opportunities both ways for young rugby players will be hugely developed by this partnership. We are very proud to be working with the Club and look forward to our fixture there in February. The College has already developed a high number of Welsh Exiles into Regional and Welsh U18 players and look forward to seeing both boys and girls use this partnership and all that it brings in the future."